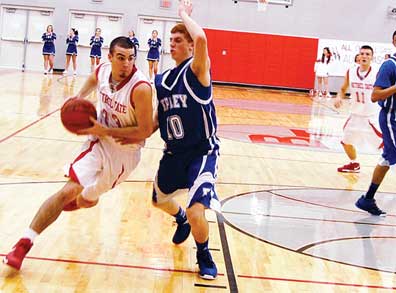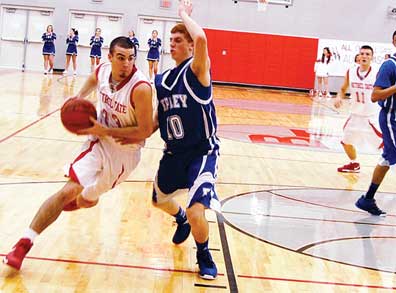 By Chris Chaney
Sun staff
The Bethel-Tate Tigers haven't gotten off to the quick start that they envisioned, but with a solid crop of upperclassmen and third-year head coach Craig Stork leading the way, the Tigers know what they need to do to send the five seniors on the team out on a high note.
"My expectations include our seniors," Stork said. "I expect all of our seniors to have great seasons. I expect them all to play like leaders. And I expect our team to work hard and prove themselves everyday and having winning be the product of doing things the right way."
Two games into the season, the Tigers haven't gotten the results they would have hoped for, but there is plenty to be encouraged by following the first weekend of the season.
Bethel lost a heartbreaker in their season opener on Nov. 30 against Ripley, 63-62, and came back the next night and competed with Reading, only to be outdueled by six points, 48-42.
Both games proved that the Tigers are capable of playing different styles of games with the opener being more of an offensive shootout and the second game of the season becoming more of defensive struggle.
That adaptability should prove the make the Tigers a tough matchup as they go forward, and Stork believes their versatility gives them a chance to be in every ball game.
"I would like to think that we're going to be a good shooting team this year," he said. "Our strength is our guards with their experience from last year, so if we can get inside and rebound, I think we can be fairly successful this year."
The success of the Tigers will rest squarely on the shoulders of the three returning starters and tri-captains this season, Tyler Atkins, Jason Adams and Russell Hartley.
"Tyler was our leading scorer and a First Team All-League player last year," Stork said, "I look for Jason to score, both inside and outside, he can score it in a bunch of different ways.
"Russell has really improved himself from last year, he's dropped some weight and is running really well. He's shot the ball really well in the preseason and one thing people don't see about Russell is that he's a really good rebounder."
The three senior captains will have Nick Marshall and Jason Lee to lean on as fellow seniors as well as a host of junior teammates who are waiting in the wings led by Blace Haviland, Noah Rhinehart, Sam Price and TJ Boyd.
The lone sophomore on the team is 6-foot-1 guard Adam Shinkle.
While the supporting cast will be gaining experience throughout the season, they will continue to play their roles as Atkins, Adams and Hartley carry the bulk of the load.
In the first game of the season, Atkins and Adams combined for 51 of the Tigers' 62 points and then 24 in the second matchup of the season. Hartley is averaging 6.5 points per game, third-highest on the team.
Bethel now enters their Southern Buckeye schedule, which will make up the rest of their pre-Christmas games beginning on Friday at Norwood. The Tigers then play New Richmond, Goshen, Western Brown and Amelia leading up to their next non-conference foe, Taylor, on Dec. 28.