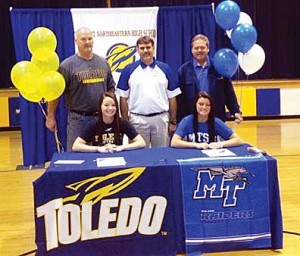 By Chris Chaney
Sun staff
With the early signing period now open, two of Clermont Northeastern's top softball prospects made their decisions official on Friday, Nov. 16 as Emily Anderson and McKena Miller signed on to play at the University of Toledo and Middle Tennessee State, respectively.
"It's great for our program," head coach Bill Goldfuss said. "They are the first two from my seven years as coach sign Division I and to have two on the same day is a fantastic accomplishment.
"They both work hard and they both put in the time necessary. They are great athletes, but even better people. They deserve it."
Anderson and Miller were both major reasons for the Lady Rockets success last season as they reached the Division III state quarterfinals where they fell to fellow Southern Buckeye Conference power Felicity, 1-0.
Returning as seniors, both Miller and Anderson are looking to improve upon their junior campaigns and Goldfuss doesn't seem to think anything less than a state semifinal appearance will be acceptable.
"Our expectations (for the upcoming season) is to go further than we went the previous year," he said. "Obviously, we want to win the league, and the sectional, then the district and regionals, but we want to take that next step."
Anderson, the Lady Rockets' ace pitcher since she stepped on campus as a freshman, will be a big reason the Lady Rockets will be an odds-on favorites to represent the area in the state tournament.
"Emily is a big part of our success," Goldfuss said of his pitcher last season. "She keeps us in each game and gives us a chance to win every time we play."
Named the Player of the Year in the conference each of her three seasons at Clermont Northeastern, Anderson is expected to make it a clean sweep this season as she comes off an exceptional year that saw her pitch 179 innings, earning a 26-2 record. She finished the season with 320 strikeouts, 18 shutouts and a 0.43 earned run average.
Miller, a left-handed hitting, right-handed throwing outfielder will join the Blue Raiders of Middle Tennessee State next season, bringing the team a consistent hitter who UMNT head coach Bill Breeden expects to make an impact right away.
"She brings speed and range to our outfield. Any time we can take a player from Bill Conroy's Bandits organization it is a positive for us," Breeden told the school's website. "McKena will come in and hit for average and compete for a starting outfield role from day one."
While Anderson gets a lot of credit for the Lady Rockets' success, Miller has been no slouch during her time at CNE. Like Anderson, Miller has been a First Team All-SBC selection all three years so far and is likely to receive the honor again in her upcoming senior season.
Both Anderson and Miller play select ball for the Beverly Bandits, one of the top Midwestern fast-pitch softball travel teams around. Their coach, Bill Conroy, has a reputation for sending his players to continue their careers at the next level.
Coach Goldfuss was also quick to point out that both Miller and Anderson put in time both in and out of season, and as a result, the signing of the letters of intent is a capper on an already-great career.
"They both put in the time and sacrifice a lot, but it all paid off," he said. "Friday's signing will be the culmination of these last handful of years and the work that they put in. They both have a great work ethic and don't play other sports. They spend their winter working out and getting better. It's a year-round process."
Goldfuss believes the pair are just the beginning of the collegiate signings for the Lady Rockets who begin play in the spring.