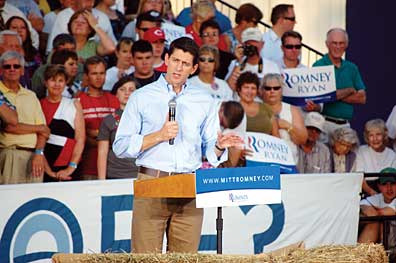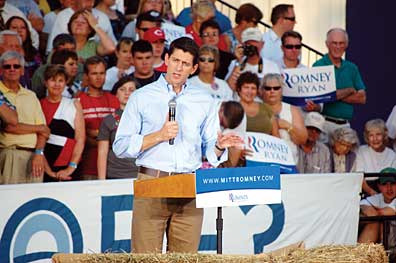 Republican vice presidential candidate Paul Ryan made a stop in Clermont County Sept. 12 to speak in front of a large crowd at the Clermont County Fairgrounds in Owensville.
Ryan promised to bring change and repair the "mess in Washington" if elected in November and also stressed the importance of Ohio votes in the election.
The campaign rally included a musical performance by John Michael Montgomery and remarks from Governor John Kasich, congressional candidate Brad Wenstrup, unopposed senate candidate Joe Uecker and Clermont County Republican Party Chairman Tim Rudd before Ryan took the stage.
Ryan began by taking a moment to discuss the deaths of United States ambassador and embassy staff members in Libya Sept. 12.
"This is a time for healing, but also a time of resolve," Ryan said.
Ryan said the world needs American leadership, and the current administration shows weakness abroad. He said peace and strength will be the foreign policy for the Mitt Romney and Paul Ryan campaign.
"Getting America on the right track, that is what we're all about," Ryan said.
Ryan talked about jobs, spending, and taxes. He said there is a need for more jobs in America and a need for a balanced budget in Washington.
"We cannot keep spending money we don't have," Ryan said.
He said Romney will work to accomplish these things if elected in November.
"This is a man I am proud to stand with," Ryan said.
Ryan said Romney a man who understands the needs of small business owners and working Americans.
"He knows that if you have a small business, you built that small business," Ryan said.
Ryan said selecting change in November is important. He said if citizens don't like the current administration and they are promising four years of the same, vote for something different.
"This truly is the most important election in your generation," Ryan said.
Ryan said deciding on who to vote for in November really comes down to a couple of questions.
"What kind of people do we want to be?" Ryan asked. "What kind of country do we want to have?"
Ryan said his administration believes in upholding the "beautifully written" Declaration of Independence that was founded by the idea that citizen's rights come from nature and nature's god and not the government.
"We will fix this mess in Washington and get this country back on track," Ryan said. "We will re-apply the founding principles."
Ryan called Ohio a target state in the campaign, and asked Ohioans for help to win the election.
Ryan received positive feedback from the conservative crowd, which was packed into a temporary stadium at the fairgrounds.
"I just love him," Rosemary Holland, of Goshen, said. "I love his budget plan."
Holland said she likes the fact that Ryan wants to have a balanced budget and not raise taxes on small business owners. She said she also likes that he wants to get manufacturing jobs back in the United States.
"I'm tired of seeing 'Made in China' on everything," Holland said.
Her husband, Ken Holland, said he also likes Ryan's support for veterans.
Marlene and John Dennis, who drove up from Louisville, Ky., to attend the event, were also please with what they heard.
"I strongly believe in what they're saying," Marlene Dennis said.
John Dennis said hopefully Republican support for Ryan will help swing Ohio.