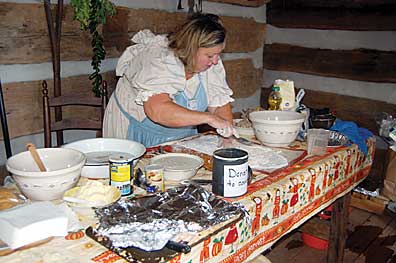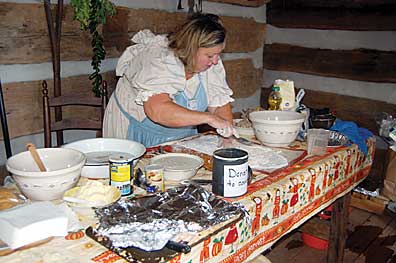 There was plenty to see and do at the second annual Log Cabin Days festival in Goshen Sept. 8 with many educational demonstrations and speakers throughout the day.
Diana Phillips, a member of the Goshen Township Historical Society and co-chair of the Log Cabin Committee, said Log Cabin Days began as the 25th anniversary celebration of the Goshen Township Historical Society.
She said organizers decided to keep the festival going and they were pleased with the second event.
"It was great," Phillips said. "The weather turned out to be perfect."
Phillips said she felt like the turnout was good for the second event and said she thinks it will continue to get bigger year after year.
The festival was set up at the Marr Education Center near Goshen High School, and guests were able to watch demonstrations, listen to historical speakers, bid on silent auction items and see a variety of arts and crafts.
Toni Teague, of Williamsburg, and Jan Anderson, of Goshen, members of Herbs and Such, an herb club, gave cooking demonstrations in the log cabin and showed visitors how to cook from scratch, using a hearth.
Teague and Anderson churned butter, made chicken and dumplings, cobbler and more during the event.
Visitors were able to watch the two women work and taste samples of the food once it was prepared.
"They are astounded," Teague said about the reaction from visitors. "Everyone is used to going to the grocery store and picking up what they need."
Teague and Anderson said they learned to cook from scratch from their parents and grandparents, but many of the children who came in have never seen anyone cook without electricity.
"I don't think they realize how much work it is," Teague said.
Skyler Rice, a 12-year-old from Goshen, said he learned from watching the demonstrations that living without many of the things we have today is hard work.
Rice watched several demonstrators and said he liked how the log cabin looked.
"I like it because it is like the old times," Rice said.
Paksenarrion Sneed, 11, came to Log Cabin Days with her grandparents and sister, Cadence.
"I think this place is neat," Sneed said. "I love history. I wanted to see what it was like in the olden times."
Other demonstrators included a blacksmith, musicians, artists and more.
Guests were also able to hear from speakers at the event including Abraham Lincoln and General George Armstrong Custer.
There was a silent auction that featured a variety of arts and crafts and food vendors at the event.
Proceeds from the event will help support the Goshen Township Historical Society.
Phillips said members of the society will discuss how everything went during Log Cabin Days at their next meeting.
"We're pretty excited about how it turned out," Phillips said. "We're gearing up for next year already."
For more information about Goshen Township Historical Society visit www.goshenhistory.org.