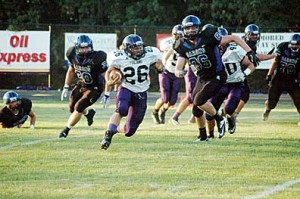 The first game of the 2012 football season brought headaches or celebrations for West Clermont School District football fans depending on which side of the rivalry you supported.
Glen Este defeated Amelia 41-7 in the season opener for both teams on Friday, Aug. 24 in front of a packed house at Amelia High School.
"That was a good win for us, the kids are excited and it was a big game for us especially after we struggled to score in the two preseason scrimmages," Glen Este's first-year head coach Nick Ayers said. "We were worried about their multiple front defense and how we were going to block against them, but we managed it pretty well and we put some points on the board."
The Trojans struck early during the first half of the game led by running back Jordan Harris who had a dream start to his junior season scoring three touchdowns on 13 carries, amassing 101 yards before his night came to an end.
"Jordan has consistently been in the weight room and working hard," Ayers said of his standout tailback. "He's been stepping it up in (preseason) camp and you know he is capable of busting a long run or being a power runner."
Harris did bust a couple of long runs, most notably, a 55-yard touchdown run that put the first points on the board with 5:17 remaining in the first quarter.
Up until that point, the game didn't really have any flow to it as both teams struggled to avoid penalties.
The Barons had trouble getting into any offensive rhythm thanks in large part to Glen Este's 6-foot-2 defensive menace, Victor Cave.
"Our front did a great job on defense mixing up our looks," Ayers said. "Victor sacked them two times early on and set the tone. His enthusiasm helped us to continue to push and play hard the entire game."
Harris fed off that enthusiasm when he doubled the Glen Este lead a quarter later as he walked in a four-yard scoring run.
On the ensuing Amelia drive, senior quarterback Gabe Weaver of the Barons threw an interception to the Trojans' Peyton Burdick on the first place from scrimmage.
The Trojans pounced on the Amelia mistake, scoring quickly on a 52-yard pass and catch from T Jay Burbage to Jordan Reed to make the score 21-0, Glen Este, which would remain the score up until halftime.
Ayers knew that the Trojans had to get out of the gate early if they wanted to be successful and scoring 21 unanswered points was exactly what they needed.
"We knew we needed a quick start," Ayers said. "Amelia had been playing well coming in, doing good things in each of their preseason scrimmages. (Coach) Randy (Hospelhorn) is a great coach and we knew (Amelia) would give us a great challenge."
The second half brought more of the same for the Trojans and unfortunately, the Barons as well. Harris scored his third and final touchdown midway through the third quarter on an eight-yard run to extend the Glen Este lead to 28-0.
Harris' backfield mate Nate Tilley put the icing on the cake with a 35-yard touchdown scamper with 6:25 remaining in the game before Glen Este pulled its starters and got some younger guys playing time.
Both Glen Este and Amelia scored garbage time touchdowns, with the Trojans' Jerdin Louiso catching a 33-yard pass from Markell Harrison with 1:38 remaining and Amelia's TJ Troxell broke a long touchdown run of his own to score with 0:28 remaining to put the score final at 41-7.
"(Winning) was definitely a step in the right direction," Ayers said, "but that's all it is. It means we're going in the right direction and if we keep doing the things we did (against Amelia), good things will happen."
The Trojans will put their 1-0 record on the line when they face Lakota West on Friday, Aug. 31.
As for Amelia, not much went right in their season opener, however they have an opportunity to right the ship when they host Northwest on Friday, Aug. 31 before getting into league play against Clermont Northeastern the following week.