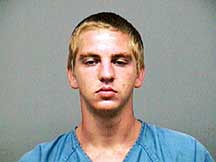 Batavia's biggest crime spree in some time – a rash of more than 12 break-ins – came to an abrupt end with the arrest of the perpetrators and recovery of most of the stolen property within 48 hours of the first crime.
Police have arrested 19-year-old Nathan Allison, of Spring Street in Batavia, and a 15-year-old in connection with the incidents.
Sgt. Stacey Tuerk said that more than 12 separate incidents occurred in the village late Friday night. Beginning early Saturday morning, residents began discovering that items had been stolen from their cars, and that sheds had been broken into and burglarized.
Later that day, Batavia Police Officers Tim Goins and Craig Graening responded to a domestic violence complaint at a residence on Spring Street and discovered evidence of criminal activity in plain view.
With marijuana, prescription pills, and several recently reported stolen items in plain sight, the officers obtained consent to search the residence and garage.
In the course of that search, the officers located more than 100 items, from lawn and garden items and fishing poles to car stereos and GPS units, that had been reported stolen the previous evening.
"Within 48 hours, we had recovered about 95 percent of the items stolen," Sgt. Tuerck said. "This is almost unheard of, especially for things taken out of sheds when there was no evidence left behind."
While most of the items stolen have been recovered, Allison is facing having to pay more than $1,800 in restitution for items not recovered, and damages to property resulting from the thefts.