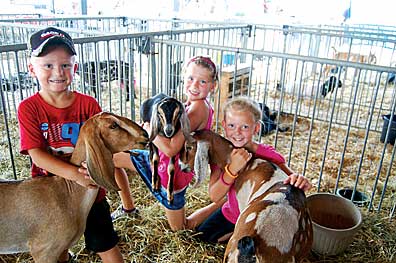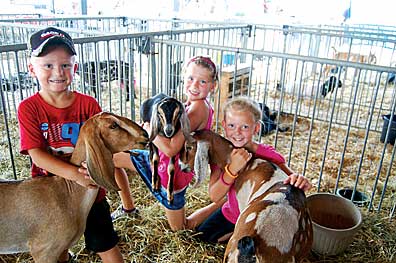 The 163rd annual Clermont County Fair came to a close July 28, and despite rain and storms throughout the week, thousands of residents made a trip out to the fair grounds in Owensville.
Clermont County Fair Board President Todd Slone said more than 60,000 people came through the gates during the week-long fair. He said the numbers were down about 35 percent from last year.
"Over all the shows went well between the rain and the heat," Slone said. "Every day at just about four or five o'clock a storm would blow in."
Slone said some guests would leave because of the storms, and they also had to postpone several events to allow guests to take shelter.
"It was nerve-racking those days," Slone said.
He said local police and fire departments, including the Clermont County Sheriff's Office, were helpful during the severe storms and throughout the fair.
"It was a great team to work with," Slone said about the local departments. "It made my life a lot easier."
Slone said the main events at the fair went well this year, all things considered. He said the bleachers in the grandstand, which hold approximately 2,000 people, were packed most nights.
"Every night we had our featured show," Slone said. "Friday we didn't get started with the tractor pull until about 9:30 p.m., but we made it happen."
Slone said Family Day, which was new this year, was also a success. He said attendance was lean during the day because of rain, but the grandstand was packed for the circus at night.
Slone said they had a record-breaking crowd on Saturday, the final day of the fair.
"We made about $77,000 right at the gate," Slone said.
The grandstand was overflowing with people who came to watch the final demolition derby that night, and the fair grounds were also packed with people.
Slone said Junior Fair activities also went well this year. He said they had to postpone a couple of events because of storms, but everything else ran smoothly.
"What we did have worked well," Slone said about events at the fair. "The weather just put a cramp on everything."
Clermont County Sheriff A.J. "Tim" Rodenberg said the fair was relatively uneventful from law enforcement perspective.
"I am pleased to report it was quite a sedate year insofar as law enforcement was concerned," Sheriff Rodenberg said. "We actually saw a reduction in reported incidents and arrests that in some other recent years."
Sheriff Rodenberg reported that there were three incident reports and three arrests made during the fair. Criminal offenses reported included theft, forgery, aggravated menacing and underage consumption.
Slone said now that the fair is over, they will begin to look ahead to next year. He said the fair board will discuss how things went at the fair at their meeting in August.
This was Slone's last year serving as fair board president, and while it has been a lot of work, he said it has been enjoyable.
"There is a lot of behind-the-scenes stuff that people don't see," Slone said. "Especially during the fair it is on your shoulders. But it is a good time. I have a blast doing it and I love being there for the kids."
Slone said someday down the road he would be honored to serve as fair board president again.
He said the election for next year's president will be held in December.
For more information about the Clermont County Fair visit www.clermontcountyfair.org.