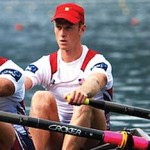 For the Graves family, rowing has always been in their blood.
A family of five, Harry and Lynne Graves raised their three sons – Tom, Peter and John – to become elite-level rowers.
Of course, it's easy to get into a sport in which your father was among the best in the world. Harry Graves was an accomplished rower in his own right, falling just short of his dream to row in the 1988 Olympics.
24 years and six summer Olympics later, his son, Peter, has given the Graves family their first Olympian.
"Peter started rowing in high school at Cincinnati Country Day and went to college at Trinity, a small liberal arts school in Hartford, Conn.," Peter's mother, Lynne said. "He and his brother, Tom, have been training in the double sculls since (Peter) graduated in 2007. They narrowly missed the 2008 Olympics in the trial race and since then, the goal has been to head to the 2012 Olympics."
Peter was able to accomplish that goal on his own in the quadruple sculls following he and his brother's failed attempt in the double sculls.
"It has been a dream come true," Lynne Graves said.
Peter participated in a 10-week training camp in Chula Vista, Calif. along with 16 other hopefuls competing for four spots on the London-bound crew.
Standing at 6-foot-2, Peter Graves isn't the prototypical rower. However, his skill and determination were enough to catapult him into the final four coming out of California, earning him the coveted seat along with teammates Alex Osborne, Elliot Hovey, and Wes Piermarini.
Since finding out he had made the team during the last week of June, the Graves' lives have been a whirlwind of excitement, anticipation and preparation.
In Clermont County, Peter's family has been checking flights, securing tickets and getting ready for their flight over to England for the Games, which begin with the Opening Ceremony on Friday, July 27.
The following day, July 28, the quadruple sculls begin their first day of heat racing.
"The Olympic race is a 2,000-meter race," Lynne Graves explained. "It's a sprint race. With all the conditioning that goes in, people say you train more for a rowing race than any other sport. It's a short race and should be finished in under six minutes."
The Men's Quadruple Sculls has 12 boats competing, meaning that there will be two heats on Saturday, July 28.
The top boats from each heat advance to the A Final, which will determine the boats' place from 1-6, including medals. Following the two heats, boats that were unsuccessful in qualifying for the A Final will have a second opportunity to do so in what's called a repechage round.
The repechage round offers boats a second chance to qualify, making it so that the best boats have an opportunity to race for gold.
If the boats are still unable to qualify for the A Final, they will race in the B final to determine places 7-12.
The United States' quadruple sculls team is relatively unknown to their Olympic competition by virtue of the new faces who make up the team. Graves has said that he hopes that this under-the-radar mentality will allow Team USA to sneak up on some of their competitors.
The team has been in Germany for the last two weeks and only arrived in London on Monday, July 23. Lynne Graves reported that the team felt they were well adjusted to the time zone and the food and we're itching to get to London.
The team will have plenty of supporters there to cheer them on when they take to the water of Eaton Dorney, a rowing center located on Dorney Lake, 25 miles west of London.
Lynne Graves said that she, her husband and two other sons are making the trip across the Atlantic to root on Peter and his teammates. Also, some close friends and family will join them, numbering 11 total.
The rowing competition's heats will take place at 11:30 a.m. local time in London on Saturday, which is 6:30 a.m. here.
The finals will take place on August 1 around the same time.