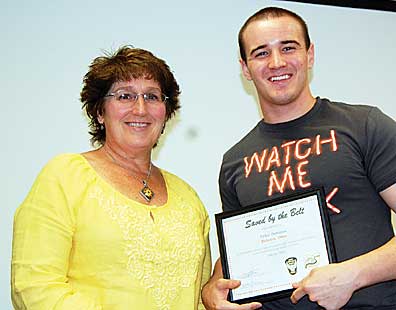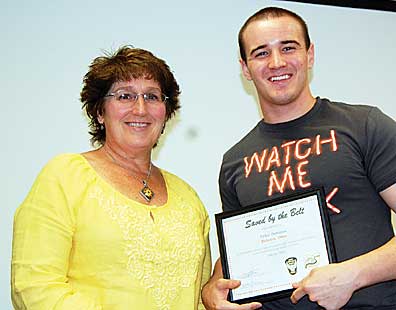 On January 13, 2012, Tyler Osborne, of Batavia, was involved in a serious car crash on Old State Route 32.
It was snowing, there was black ice on the road, and Osborne's vehicle collided with another vehicle leaving him unconscious and in a coma.
Today, Osborne looks like nothing ever happened, and the former Batavia High School student spoke at Clermont County Safe Communities' July 19 meeting about the accident and his recovery.
"It's hard to look at that picture and know I was in that car," Osborne said about the photograph of the accident.
Osborne said it took rescue crews 45 minutes to get him out of the car, which was pinned up against the guard rail on the side of a hill.
"I had a punctured lung, cracked ribs and was in a coma," Osborne said. "I had a 5 percent chance of making it through the first night."
Osborne spent 12 days in the intensive care unit at University of Cincinnati Hospital.
During that time his father, Josh, mother, Cindy and sister, Bri, learned that Tyler had suffered a traumatic brain injury including damage to his brain stem, and only time would tell how much he would recover.
As a former wrestler and soccer player who enjoyed strength training and pushing himself at the gym, Osborne wasn't used to giving up.
"I ate healthy and worked out all the time," Osborne said. "They said that was a big factor why I lived."
Osborne came out of a coma after two weeks. He said his first words were "I love you too," which he responded to his sister.
He said he didn't remember anything about the accident, and each day was another challenge, learning about his condition, gaining strength, and working to do the things that he had forgotten how to do.
Osborne was moved to Drake Center, where he began working with therapists.
"I had to re-learn how to swallow, speak and walk," Osborne said.
He said he went through a lot of physical therapy and would always try to do more than what he was asked to do.
Osborne celebrated his 20th birthday in the hospital, something he said he never pictured. He said he was grateful for all of his friends and family members who visited him on his birthday and every day during his hospital stay.
"I had a lot of visitors which helped time fly by," Osborne said. "I had a visitor every day. That means a lot."
Osborne was able to walk out of the hospital the day he was released, and he hasn't looked back since.
He is back in the gym, looking into becoming a personal trainer, enjoying lots of Chipotle (his favorite meal) and is now able to reflect on everything that happened.
Looking back on the day of the accident, Osborne said his boss told him to wear his seat belt as he was leaving work because there was black ice on the roads. Even though Osborne said he rarely wore a seat belt, he put it on that day.
Now, he said, he always wears his seat belt, and encourages all his friends to as well.
"I've change a lot of people's lives by this," Osborne said.
Safe Communities members encouraged Osborne to keep sharing his story, especially to other young drivers.
Osborne said that while re-visiting the accident is hard, and some of the pictures give him chills, he really wants his story to help others.
"I don't mind talking about it, as long as it saves people's lives," Osborne said.
Find this photo here.