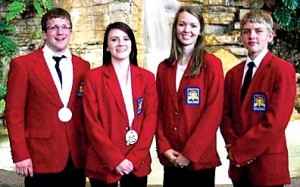 Grant Career Center SkillsUSA members recently returned from Kansas City, Missouri where they competed at the 48th Annual National Leadership and Skills Conference and SkillsUSA Championships. The competition was held at H. Roe Bartle Hall and Municipal Auditorium in Kansas City, on June 23-27.
Four students earned the privilege of representing Grant Career Center at the championship by winning Gold Medals at the state level in the spring and traveled to Kansas City full of hopes and dreams of winning shiny medals.
Chris Taylor, a senior Allied Health Science student from Bethel-Tate, competed in the Health Occupations Professional Portfolio competition and brought back a Silver Medal for his efforts at the national level.
The Health Occupation Professional Portfolio recognizes students for their successful development of a professional portfolio.
The competition evaluates the ability of the student to present themselves to a perspective employer. The competition consists of two parts: a portfolio notebook showcasing their achievements and a live presentation by the student.
Chris stated, "The National Competition in Kansas City was a once-in-a-lifetime opportunity. I had the chance to do so many great things and see things that I have never seen before. When I won, I felt lots of positive energy and it was really exciting as I stood on the podium to accept my medal."
Chris will continue his education this fall at Good Samaritan College of Nursing and Health Science where he will be studying nursing.
Mariah Conger, a senior Allied Health Science student from Felicity-Franklin, placed second in Basic Health Care Skills.
This competition challenged students' basic levels of health occupations knowledge and skills of fundamental health care. Contestants' skills are evaluated through hands-on demonstration, written exams, interviews and a tabletop presentation of skills.
Mariah said winning at Nationals was like a dream. "I didn't believe it would ever happen and I was excited when I got the chance to stand on the podium with the national winners!" Mariah will continue her education this fall at the Shawnee State University where she will major in Nursing.
The Robotics and Automation Technology team consisting of Cyra Jones and Travis Bee, both from Bethel-Tate, place sixth in the nation in the school's first attempt to master this competition. The Robotics and Automation Technology competition challenges a two-person team to demonstrate the operation of a 5-axis servo-robot along with a set of sensors and motorized devices to resolve a simulated production process problem. They must demonstrate mechanical adjustments on a non-servo robotic workcell, and are required to convert a word problem task to a flow chart and sequence of operation. Teams are judged on efficiency, speed and teamwork.
This year, as part of the Work Force Ready System, SkillsUSA awarded Skill Point Certificates in all 96 contest areas to recognize outstanding talent of contestants in addition to those who earn gold, silver and bronze medallions in the SkillsUSA Championships. The same industry leaders who defined the competencies for the Championships determined a "cut score" that indicates excellence for students entering technical fields. Most cut scores range between 70 and 80 percent. Each certificate lists the competency areas tested in the contest and carries the logos of organizations and companies that planned and managed this year's competitions.
All four students were rewarded for their outstanding skills and knowledge with a Skill Point Certificate to document their achievement and to show potential employers an indicator of their proficiency.
As well as this trip being a reward for work well done throughout the year, the students also learned some very valuable skills.
The students also had the chance to see the best work of students and businesses from all across the nation as well as hear presentations from some of America's great business leaders.
SkillsUSA helps students discover and grow their career passions. As a nationwide partnership of students, instructors and industry working together, SkillsUSA works to ensure America has a skilled workforce. It helps every student excel.
The nationwide career and technical education (CTE) student organization serves more than 320,000 high school, college and postsecondary students—and their instructors—in technical, skilled, and service occupation instructional programs. CTE is learning that works for America. SkillsUSA has the active support of more than 1,100 corporations, trade associations, business and labor unions at the national level.
Over 10.5 million people have been annual members of SkillsUSA since its founding as The Vocational Industrial Clubs of America in 1965.
SkillsUSA programs teach leadership, citizenship and character development to complement technical skill training.
The organization emphasizes respect for the dignity of work, ethics, workmanship, scholarship and safety.
The students were accompanied on their trip to Kansas City by SkillsUSA advisors Myrna Little and Tobin Huebner.