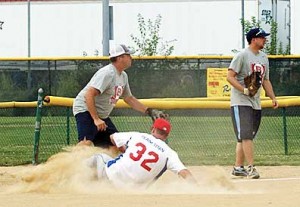 Expressway Park Softball Complex isn't your run-of-the-mill beer league softball field. It's so much more than that.
Opened in 1981 by Max Dixon, Expressway Park holds tournaments for all ages throughout the spring, summer and into the fall each year. In addition to holding these tournaments, the park is home to more than 25 leagues taking place on various nights for different team make-ups.
Owned and operated by Dixon for the last 29 years, the park features five regulation diamonds with lighted fences measuring 300 feet. The park features concrete walkways and dugout floors as well as a safe and well-lighted parking lot so that patrons can enjoy their night at the park with as little worry as possible.
The park has turf grass outfields that are maintained daily as well as having installed a professional irrigation system that helps to water and drain the fields as necessary.
Expressway Park offers a very family-friendly environment that allows competitors and fans alike a great place to spend an evening. The park offers batting cages, a children's play area and game room as well as covered concession pavilion that has six satellite televisions. There is also a basketball court and clean restrooms.
Among the leagues and tournaments that Expressway Park hosts are men's tournaments by class, men and mixed couples round robins, mixed couples tournaments, women's tournaments as well as youth tournaments.
The park is booked solid Monday through Friday with leagues that range from men's CI to E4 as well as women's leagues and mixed couples leagues.
Expressway Park hosts many one and two-day tournaments throughout the summer months, sometimes holding on multiple tournaments on the same day.
The Park runs various United States Specialty Sports Association Tournaments including qualifiers that allow teams to advance to regional, national and even world-wide tournaments.
The park's leagues go into late October and offer a multitude of pricing options for teams looking to get into leagues, whether they be competitive or recreational.
There are also two different types of softball being played at the park, slow pitch and fast pitch.
Another important aspect of the park's prestige is the umpire training that they offer. With an agreement with the Eastgate Holiday Inn, the Wayne Rust Umpires Association takes the opportunity to train new umpires prior the start of leagues an tournaments each year.
The classes range from instruction and rules revisions to game management and on-field instruction. Overall, the umpire training covers about six weeks with the soon-to-be umpires meeting on Sundays each week for a few hours at a time.
For more information on the park and what they have to offer, check out their website at expresswaypark.com.
The park still has tournaments going on throughout the end of the season, so be sure to look at the schedule for upcoming tournaments if you have a team that is interested in competing.
For all other inquiries, you can email the park at expressway@expresswaypark.com or call them at (513) 831-2273.