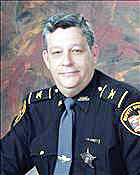 Chief Deputy Rick Combs of the Clermont County Sheriff's Office will be retiring at the end of July after serving the county for 15 years.
"It was just time," Combs said about the decision.
Combs said a combination of 37 years of steady employment, along with the economy not leaving much room for advancement, made the timing right to retire.
"It is kind of bitter-sweet for me," Combs said. "I have a good relationship with the sheriff and the organization is top notch, but you want to leave when you're on top."
Combs has been with the Clermont County Sheriff's Office since 1997. Prior to that he served with the Milford Police Department as patrol officer, patrol supervisor, detective, specialist and administrative lieutenant and also served as chief of police for the village of Glendale.
Combs said the best part of working at the sheriff's office was the staff.
"The staff has been great," he said. "When you don't have a whole lot of personnel problems that allows you to focus on crimes."
Sheriff Tim Rodenberg said Combs served the office well while the past 15 years.
"He has basically overseen the guts of our criminal operations," Rodenberg said. "He was instrumental in putting together contracts with the townships. He has done a lot."
Rodenberg said Combs talked about the decision with him, and Combs' last day will be July 31.
"He served the office, myself and the people of the county well," Rodenberg said. "I certainly wish him the best."
Combs said he is looking forward to enjoying a nice long break, and it will be different to not have so many responsibilities.
"I probably won't be fishing, I probably will not be growing a beard," Combs joked. "I probably will get a little more laid back."
Combs said once he enjoys some time off he will likely find something else to do.
"If I feel like there are other challenges I want to take on, that's what I'll do," Combs said. "We'll see what comes along."
Rodenberg said they will not be filling Combs' position immediately.
"Chief deputy is a very unique and important position," Rodenberg said. "It's almost like a marriage in a way. You have to be on the same page."
Rodenberg said it will take time to find another chief deputy, and he may wait until the end of the year or longer to begin the search.
"For the time being I have three lieutenants," Rodenberg said. "All have been around here for years, they know their business and I absolutely trust their confidence."