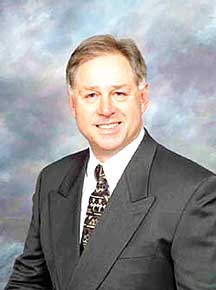 Former Clermont County Commissioner Archie Wilson pleaded guilty in Kenton County court June 5 to soliciting prostitution and possessing a controlled substance.
Wilson was charged in Kenton County Feb. 3, the day after he resigned from his position as Clermont County Commissioner.
According to a release from the Kenton County Attorney's Office, Wilson read the plea agreement aloud in the court room in front of Judge Ann Ruttle at approximately 9 a.m. June 5.
His plea included $500 in fines and no jail time if there are no further convictions of criminal offenses occurring after October 6, 2011. If there are further convictions, Wilson could face up to 60 days in Kenton County Jail. Judge Ruttle also required Wilson to take an HIV blood test.
Wilson was originally charged with trafficking a controlled substance and the charge was changed to possession of a controlled substance.
The Kenton County Attorney's Office announced in February that charges had been filed against Wilson. The charges followed an investigation that began with the Clermont County Sheriff's Office in June of 2011.
According to the sheriff's report dated June 22, 2011, Amanda Lay, a Clermont County Jail inmate, saw a picture of Wilson in the newspaper and told a detective with the Clermont County Sheriff's Office that Wilson had paid her to have sex or perform sex acts with him.
Lay told detectives that Wilson would call her cell phone, set up a pick-up location and they would go to a motel in Erlanger, Ky., where she would book a room. Lay also told detectives that Wilson would bring drugs in the form of cocaine and pills to give her, and for his own consumption.
According to Clermont County Sheriff Tim Rodenberg, investigators with the sheriff's office began an investigation and concluded that none of the alleged activity occurred in Clermont County, but rather in Northern Kentucky.
Sheriff Rodenberg said the case was transferred to Kentucky State Police who continued the investigation and later filed charges against Wilson.