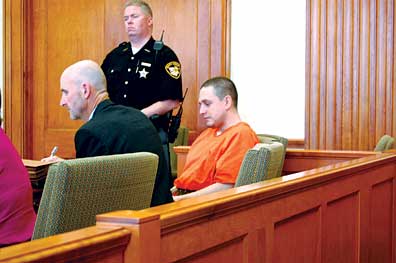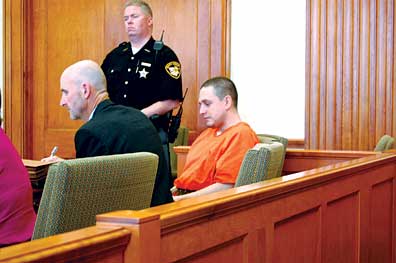 A pre-trial hearing for Nathan Parsons, the Williamsburg man who was charged with killing his step-father in Goshen and then kidnapping a woman in Brown County, was held in front of Judge Jerry McBride May 15.
Judge McBride talked with both defense and prosecuting attorneys about the progress of the case and the jury selection process.
Clermont County Assistant Prosecutor Woody Breyer said the defense asked for a continuation on the case in March, which moved Parsons' scheduled jury trial from May to September.
"The defense asked for a continuation with the main reason being the mitigation expert would not be prepared," Breyer said.
Breyer said the defense has listed two experts on their witness list including a psychologist and a mitigation expert.
At the hearing, Cathy Adams, one of Parsons' defense attorneys, said Parsons was scheduled to meet with the psychologist again May 15, and they are waiting on reports from both experts.
Parsons' trial is now scheduled to begin Sept. 10, and Breyer said he believes the date is pretty set in stone.
Judge McBride discussed the jury selection process with both the defense and prosecuting attorneys, and said he created a questionnaire for potential jurors.
"I sent out the jury questionnaires so you were able to see those," McBride told the attorneys at the hearing.
He said the questionnaires include publicity questions to see what the individuals know about the case, questions about the death penalty, which is a sentencing option if Parsons is convicted, as well as general questions for potential jurors.
In addition, Breyer said Judge McBride is planning to meet with potential jurors in August to discuss availability.
"A death penalty case typically takes three weeks or longer," Breyer said. "You have to find jurors who are willing to commit."
Breyer said even though the death penalty is only an option if Parsons is convicted, they still have to discuss the option with jurors before the trial even begins.
Parsons is facing aggravated murder, aggravated burglary, kidnapping and other charges after a string of events that occurred No-
According to Goshen Township Police Chief Ray Snyder, Parsons confessed to police Nov. 16 that he killed his step-father Richard Parsons, 69, of Goshen in the early morning hours Nov. 15.
Chief Snyder said Parsons stole several items from his step-father's home Nov. 15 including an Xbox, laptop computer, semi-automatic pistol and his step father's pickup truck.
On Nov. 16, Parsons used the pickup truck to drive to Southern State Community College in Brown County, where he kidnapped Cassie Crawford, with whom Parsons had a previous relationship, when she arrived for class.
Bystanders, as well as Crawford, were able to notify police about the kidnapping. Parsons led police on a chase through Brown and Adams counties before he stopped in a field after attempting to avoid tire deflation devices. Crawford was unharmed and was able to talk with police about the incident.
"She told police that he claimed to have murdered his dad," Chief Snyder said. "They contacted us because the step-father lives here."
Goshen police went to Richard Parsons' home to investigate and found him deceased. They interrogated Parsons about his step-father's death later that day, and he confessed to the murder.
Parsons was also charged Feb. 1 for assaulting a prison guard while he was incarcerated at Clermont County Jail.
Judge McBride scheduled another pre-trial hearing for 12:30 p.m. June 8. His formal pre-trial is scheduled for 12:30 p.m. July 13. Parsons remains incarcerated at Clermont County Jail.