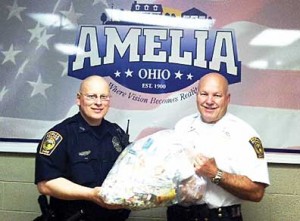 The Drug Enforcement Agency reports a record amount of old or unwanted prescription drugs were turned in during the fourth annual National Prescription Drug Take Back Day.
On Saturday, April 28, citizens turned in 276 tons of prescription drugs at sites across America. In Clermont County, nearly 250 pounds of medications were turned in, according to the Coalition for a Drug Free Clermont County.
Throughout the four years of the collections, over 774 tons of old prescription medication has been collected and destroyed nationwide.
"We are pleased at the response of the American people once again, and we thank them for participating and contributing to the battle against prescription drug abuse," said DEA Administrator Michele M. Leonhart in a news release. "Those who brought drugs to the drop off sites in Clermont County told us they knew they weren't supposed to flush the drugs down the toilet, because it could create an environmental hazard," said Clermont Coalition Director Heidi Nykolayko. "Most of the people told us they held on to the medications because they were unsure what to do with them. They appreciated being able to have the opportunity to dispose of the drugs in a safe way."
Law enforcement agencies from the Clermont County Sheriff's Office, Amelia, Bethel, Milford, Pierce Township, Union Township and the Batavia Fire department took part in the local collection. Nykolayko said drugs collected across the sites in Clermont County included antibiotics, codeine, pain pills, anti- depressants, and other drugs that were transported in shopping bags, boxes and backpacks to the disposal sites.
The DEA-led initiative addresses a vital public safety and public health issue. Medicines that languish in home cabinets are highly susceptible to diversion, misuse, and abuse. Rates of prescription drug abuse in the U.S. are alarmingly high–more Americans currently abuse prescription drugs than the number of those using cocaine, hallucinogens, and heroin combined, according to the 2010 National Survey on Drug Use and Health.
Studies show that a majority of abused prescription drugs are obtained from family and friends, including from the home medicine cabinet.