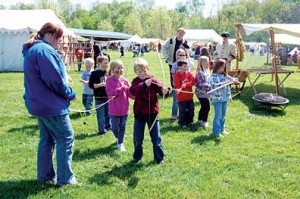 Students from Clermont County and beyond journeyed back in time at the Grassy Run Heritage Rendezvous April 27 and participated in a variety of live history demonstrations and educational activities.
"The school day program was a lot better this year," Randy Conover, a Grassy Run Historical Arts Committee member, said about the Friday event. "A lot of our members stepped up with demonstrations. Many parents said it was the best program yet."
Conover said children were able to participate in many hands-on activities and interactive demonstrations including quilting, weaving, hunting and playing old-time games.
The Grassy Run Heritage Rendezvous was designed to be a educational opportunity for children and adults, and the three-day event featured a 1700s living history encampment with story tellers and demonstrations in blacksmithing, weaving, soap making and more.
"This year was a lot closer to what the Grassy Run founders intended," Conover said about the event.
Last year the event was cancelled because of flooding in Williamsburg Community Park, but this year was the 20th anniversary for the rendezvous. The Grassy Run Historical Arts Committee organized the first rendezvous in 1992.
This year, wet weather made an appearance, but not until Saturday, after students from several local school districts, as well as groups of home-schooled students, attended the event.
"I love it, it is absolutely wonderful," Jennifer Espino, of Liberty Township, said about the event. "It's a lovely environment for children and adults to see a simpler way of life."
Espino said she and her children are part of a home school group, and she decided to come to the event because they thought it would be a good learning opportunity.
Tisha Miller, of Williamsburg, also brought her children to the event to experience the live history encampment and all the demonstrations.
"They learn so much by seeing the demonstrations," Miller said.
In addition to listening to demonstrators, children were also able to participate in many of the demonstrations.
"I like it because it is fun, and you learn a lot of new facts," Sarah Gardner, a 10-year-old from Bethel, said about the event.
Gardner and several other children learned how to play different kinds of games that were played by children their age years ago.
Julia Kaiser, 13, who helped with the games demonstration, said some of the games that children used to play were made from leather pouches filled with corn, sticks, hoops and other basic materials.
"They are very simple games," Kaiser said.
Ron Shouse, one of the organizers of Grassy Run, said he was pleased with the school day event this year. He said having so many hands-on activities made it fun for the kids.
"We do this because of the school kids," Shouse said about the rendezvous. "That day went really well."
Both Saturday and Sunday of the rendezvous also featured a variety of demonstrations and activities for guests.
Shouse said members of the Grassy Run Historical Arts Committee, as well as several local organizations and jurisdictions, contributed to the event this year.
"The (Clermont County) visitor's bureau came through with a grant this year, which helped us afford the things we were going to have to do without." Shouse said.
He said the Clermont County Park District and the village of Williamsburg also helped make the event possible this year.
For more information about Grassy Run Historical Rendezvous visit www.grassyrun.org.