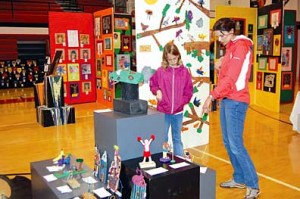 The New Richmond High School gym resembled an art museum April 13-14 during the annual district-wide art show.
Students, parents and guests were able to view a variety of work including drawings, sculptures, paintings and more, all completed by students in the district.
"I think it is nice because we get to see what everyone in the district is doing," Stacy Gibbons, an art teacher at New Richmond Middle School, said.
Gibbons said she and the the other art teachers in the district spent Friday, April 13 setting up for the show, which included displays, tables of artwork and more, before the show began at 6 p.m.
"It's neat to see how the progression goes," Tim Cook, an art teacher at Locust Corner Elementary School, said about students' artwork. "Plus it is a culmination of our whole year."
Cook said the number and style of pieces varied for each school and class, but each student in the district either chose a piece or their art teacher chose a piece to be featured in the show.
"I think it is a neat opportunity," Calvin Hochberg, a 13-year-old student said about having his artwork displayed at the show.
Hochberg said he liked the piece he chose to be in the show because it showed perspective.
Katie Gardner, a 10-year-old from Locust Corner Elementary, said her artwork, a clay piece, was a project she completed after studying American Indians in Social Studies. She came to the art show with her mother April 14 to look at all the artwork.
"We come every year," Paulie Gardner, Katie's mother, said about the art show. "She wanted to see it."
Bella Timmerding, an 8-year-old also from Locust Corner Elementary came to the show with her mother and grandmother and said creating her piece was a lot of work, but she enjoys coming and looking at all of the pieces because she likes the creativity.
"She always looks forward to coming each year," Lisa Timmerding, Bella's mother, said.
Cook said this year's show was the 30th-annual art show for the district. He said he hopes the district continues to put on the art show because it gives students and art teachers a chance to view all of the work.
"I think it is kind of rare to see a whole district do a show," Cook said.