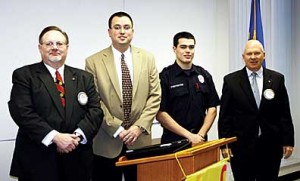 Tyler Cahill of Clermont Northeastern High School was recently honored as March Student of the Month by the Batavia Rotary Club.
One high school student from CNE is honored at the first Rotary meeting of each month during the school year. Students who are nominated for this award live their lives in a manner that exemplifies the Rotary motto of "Service Above Self."
Cahill's school achievements as well as his busy community activities qualified him for this award.
"If the world were full of Tyler Cahills," said Matt Earley, CNE High School Principal, "it would be a better place to be."
Cahill is in the top 10 percent of his senior class. He is a four-year member of the Leo Club, serving this year as President. Over the years, he has collected clothing for the needy, collected money to purchase and wrap Christmas gifts, worked a booth at the Pumpkin Run, and has worked the CNE Lions Club Fish Fry. Cahill is a four-year member of the band, playing trumpet, baritone, and French horn; he has also participated in CNE drama productions for three years and was cast as Beast in last year's "Beauty in the Beast." This year, he will play the Grinch in "Suessical, the Musical." Cahill is a two-year member of the National Honor Society, an OGT Math Tutor, and has been a Teacher's Aide for two years.
Cahill is also very busy in the community. He is a Volunteer Firefighter for Stonelick Township, an active member of the Glen Este Church of Christ, and says horses are his passion. He owns quarter horses and is a Western Pleasure Rider, giving riding lessons whenever he can. In his spare time, he enjoys spending time with parents Andy and Rhonda Cahill of Stonelick Township.
The Batavia Rotary Club is comprised of a diverse group of community-minded members that are working together to address various community and international needs and to promote peace and understanding throughout the world. Club meetings are held every Tuesday at 7 a.m. at the Hawk Building on Taylor Road, Clermont County Airport. Prospective new members and visiting Rotarians are always welcome.
Please visit www.batavia-rotary.org for more information.