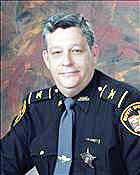 Permm Gilbert was 46 years old and was living with his family along State Route 774 just inside Brown County, Ohio at the time of his death on or about May 23, 1982.
Our office, Clermont County Sheriff, became involved in his disappearance after his nude body was found in a low lying ditch along Swope Road in Clermont County on the morning of May 23. Though Gilbert was not immediately identified, the dump site was within 5 miles of his residence so it took little time for investigators to review missing persons reports and match Permm to one filed in Brown County. Evidence indicated he had been fatally shot then dumped.
Gilbert was a long-time traveling appliance repairman and traveled in Brown, Clermont and Adams counties in Ohio and portions of northern Kentucky. Permm was accustomed to keeping late hours with the routes he traveled to get to his customers. Oddly, for several days after his body was discovered his white panel work van was missing and turned up abandoned just across the river from Maysville, Kentucky in Adams County on Ebenezer Road. The van did reveal some useful evidence that modern day technology could utilize.
Gilbert was last seen alive at Clyde's Super Value located at 1200 Forest Avenue in Maysville, Kentucky on May 22, 1982 just before noon. Permm was a regular visitor to this store and was quite well known by many.
Investigators established the motive for the murder was not a robbery and believe it was someone who may have had a vendetta for Permm. His death more than likely centered around events in Maysville, Kentucky.
There are rumors regarding what exactly happened to Mr. Gilbert, and we have identified several "persons of interest" in this case and ask the public for any information they may have failed to report at the time of Permm's death.
In November 2011, I assigned the case for an in-depth follow up by the Investigative Section.
Anyone with old or new information about this unsolved case, especially from the Maysville, Kentucky area, please feel free to call Lt. Steve Leahy or Sgt. Chris Stratton at (513) 732-7545 and share your information as we attempt to move closer to a answer to all of our questions about the murder of Permm Gilbert.
Rick Combs is the Chief Deputy of Criminal Operations with the Clermont County Sheriff's Office.