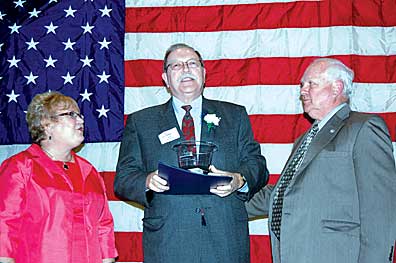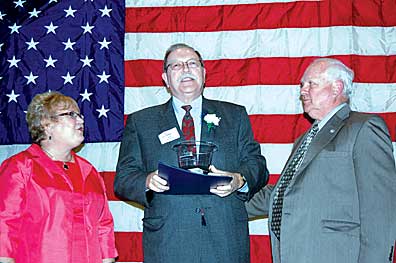 The Clermont County Chamber of Commerce held the 19th annual Salute to Leaders awards banquet March 13 to honor non-elected individuals who have made significant contributions to their communities.
The banquet was held at Holiday Inn Eastgate and featured dinner, followed by an awards program, where individuals were honored by the chamber, local business owners, community leaders and their peers.
"Without people like you, our communities would not be how they are," State Representative Danny Bubp said about the award winners.
Township and city awards were presented first to individuals who were selected in their township or city for their leadership and community involvement.
"Accept it with honor," Greg Crowell, president of The Crowell Company, told winners before awards were given. "It was well deserved and you truly are making a difference."
Township and city award winners included: Louis Moore for Batavia Township, Wayne Cossens for Franklin Township, The Citizens Police Academy Alumni Association for Goshen Township, Elsie Minnick for Jackson Township, Mary Anne Will and Linda Powers for Miami Township, Michael Davis for Monroe Township, Aileen Whitt for Ohio Township, George C. Juilfs for Pierce Township, Marilyn and Mike Fetter for Stonelick Township, The Burke Trust for Tate Township, Stanley Wilfert for Union Township, Brenda and Kent Jones for Washington Township, Paul Ritchey for Wayne Township, Williamsburg Emergency Mission for Williamsburg Township and The Society of St. Vincent dePaul for the city of Milford.
Other award winners recognized at the banquet included 13 individuals or organizations honored for specific contributions to the community.
Steve Milton received the Civic Award for his military service and for accompanying home three fallen military personnel from Clermont County and greeting their families.
Tim and Wanda Ferree earned the Community Project Award for providing weaving classes as well as offering a quilt ministry with United Methodist Church and distributing quilts to those in need.
Barbara Hartman was awarded the Education Award for her service at New Richmond Exempted Village School District, on the West Clermont school board and at the Great Oaks Career Center.
Global Scrap Management, a scrap metal recycling company located in Milford and now in Batavia Township, earned the Environmental Award.
Batavia Lung Specialists Dr. Samir Ataya, Dr. David Beck, and Dr. Brent Kinder earned the Health Care award for their lung-related illness services at Mercy Health-Clermont Hospital.
The Highway Disciples Motorcycle Ministry earned the Human Services Award for raising money and donating time ministering to those in need in the county.
Jim Dombroski, president of Milford Football and youth coaching director of Milford Lacrosse clubs, earned the Parks and Recreation Award for using sports to teach children character-building lessons.
Marie Holscher received the Rural Interests Award for an easement donation she made to the Ohio Department of Agriculture to ensure her family's 42-acre farm in Monroe Township remains farmland.
Lieutenant Scott Gaviglia, of the Union Township Police Department, received the Safety and Justice Award for his role in the implementation of the Crisis Intervention Team in the county.
Peter Brandt, a senior at Glen Este High School, received the Up 'N Over Youth Leadership Award for his leadership in a variety of clubs and organizations and his involvement in the community.
Pastor Brent Snook earned the Humanitarian Award for his leadership at First Baptist Church of Glen Este where he has helped grow membership and offer a programs for the community.
Darrell Baumann was awarded the Over 'N Over award for his selfless contributions in the community including volunteering his time to many civic organizations and community groups.
The final award of the evening was the William H. Over Leadership Award, the highest award presented at the banquet named after William Over for his dedication to the county.
Ed Bridgeman earned the William H. Over Award this year for his impact on the criminal justice community. Bridgeman serves as the chair of the criminal justice department at UC Clermont and also is responsible for the successful police academy program at the college.
Award winners were all honored with a plaque and gift bag at the ceremony and also received many thanks from those in the community for their leadership.
"To the award winners, thank you, you have set an example," Clermont County Commissioner Bob Proud said.
For more information about the Salute to Leaders awards banquet, visit www.clermontchamber.com/Salute-to-Leaders.705.0.html.