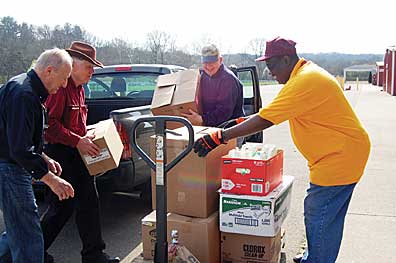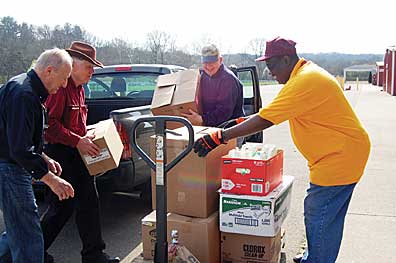 A tornado relief donation center opened in Batavia March 14 to collect a variety of donations for tornado and storm victims across southern Ohio.
"We are known for donation management," Roy Nelson, disaster response coordinator for Adventist Community Services Disaster Response, said.
The organization is recognized by the Federal Emergency Management Agency for donation management after a natural disaster and works in cooperation with local volunteers and volunteer organizations.
Nelson said they worked with Clermont County Emergency Management Agency to find a location for the donation center at Red Barn Market in Batavia. He said the center will serve as a multi-county donation drop-off location.
"Imagine you were one of the people who lost everything," Nelson said. "What is it that you need?"
Nelson said this is what he encourages individuals and organizations to think about before donating items to the center.
The center was designed to collect items that storm victims request. Nelson said they are looking to not only centralize, but also organize donations before they are given to victims.
"Right now we're just trying to get them on their feet," Nelson said.
He said they are looking for essential items, which include personal hygiene supplies, furniture, appliances, linens, household supplies and more. Items that top the list include clean-up tools such as gloves, shovels and rakes and cleaning supplies.
Nelson said furniture can be gently used, appliances need to work and bed and bath linens should be in sets. He said kitchenware sets should serve four people.
Items that are not accepted include food, clothing, mattresses and other items that are in poor condition or not necessary for those in need.
"We want to give people a hand up, not a hand out and definitely not a hand down," Nelson said about donations.
He said in addition to donations, they are also looking for volunteers who would be willing to help at the center during the week.
Nelson said they will need help unloading donations and will also need help sorting items, organizing the center, inputting data and more.
"I can find almost anyone something to do," Nelson said about volunteers.
Nelson said the center is open to collect donations Monday, Tuesday, Thursday, Friday and Sunday from 10 a.m. – 5 p.m. by appointment.
He said the center could be open at the Red Barn Market at 299 Haskell Lane in Batavia up to three months, depending on the needs of storm victims.
For more information or to schedule a drop-off time call (513) 404-8887 or email TriCountyTornadoRecoveryCenter@gmail.com.