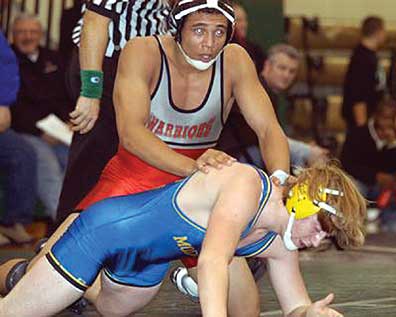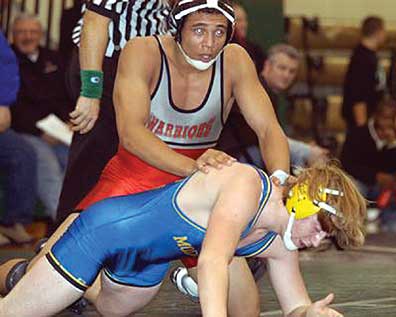 The Southern Buckeye Athletic Conference Wrestling Tournament was held on Saturday, February 11 at Clermont Northeastern High School with New Richmond taking home the American Division crown and Blanchester winning the National Division.
For New Richmond, the title was the school's fourth conference championship in five years.
"It's great," New Richmond coach Deron Shinkle said. "The kids have really worked hard. A lot of them have come up from the youth and junior high teams and that experienced has helped us."
Shinkle was also honored with the Coach of the Year Award in the American Division for the fourth time in five years as well.
"I don't know," said a modest Shinkle when asked what the individual achievement meant to him. "It's nice to be honored, I guess. I'll just keep going. We have a strong program and it's thanks in part to the hard work the kids put in during the offseason."
It should come as no surprise that Goshen senior Chaz Gresham was named as the Wrestler of the Year in the American Division.
Gresham, the defending state champion in Division II, has taken home the award in two of the past three years and has been a league champion in his weight class all four years as a Warrior.
"He wrestled well (Saturday," Goshen coach Dallas Rise said. "He's a little bit above the rest of the guys' level.
"He's not only important to our program, but when you win the state championship, that's history and you can never take that away from someone. I hope he stays injury free the rest of the year and can get another title."
Gresham defeated Western Brown's Andy Wallace 17-2 on Saturday.
New Richmond dominated the proceedings on Saturday, putting nine wrestlers in first-place matches with five of them taking home league championships.
Brody Hooks, wrestling at 113 lbs., defeated Amelia's Alec Holste, pinning him in 1:10.
"Brody wrestled very well," Shinkle said. "It's been a tough year, but he wrestled in the offseason and improved. His work ethic is top-notch."
At 120, Austin Skaggs pinned Bethel-Tate's Aric Peters in 1:17. Freshman Kyle Weeks defeated Bethel's Josh East 5-1.
"Weeks is a freshman who just stepped in for us at 160 this (past) weekend because of an illness," Shinkle said. "It was his first varsity experience and we're looking forward to some good things from him in the future.
James White was league champion for the Lions at 170 lbs. defeating Brandon Breezley of Blanchester 9-0.
"James White has been wrestling anywhere and everywhere for us," the coach said. "He's been all over the place as we dealt with sickness and injuries."
The last Lion to take home league honors was J.R. Forsee at 285 lbs. Forsee took down Williamsburg's Jordan Smith 7-2.
"J.R. is really turning it on at the right time," Shinkle said. "He wrestled the defending state champion last week and had it 1-1 before the last 30 seconds when he got turned, but he's wrestling the best he has all year right now."
Bethel-Tate also had a solid showing at SBC Tournament. The Tigers finished in second place thanks to 11 placers in the 14 weight classes.
Bethel boasted three league champions – Brandon Kahlenbeck (106), Chip Ratcliff (132) and Jon Ward (195) – two runners-up, four third-place finishers and two more fourth place finishers.
"Chip Ratciff is sitting at 99 career wins and should hit the century mark on Friday (at the sectional tournament)," Bethel coach Tom Donahue said.