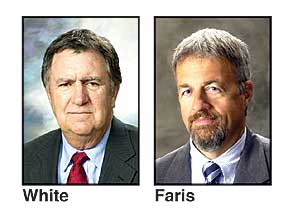 Two Republican candidates for Clermont County prosecutor are on the ballot for the March 6 primary election.
Incumbent prosecutor Don White has held the position for the last 23 years, while his opponent Vince Farris is looking to be elected after spending several years as assistant prosecutor and also working as a defense attorney.
"I was in the prosecutor's office in the 1980s," Faris said. "I enjoyed the work very much and would like the opportunity to run the office."
Faris graduated from the University of Kentucky in 1976 and the University of Toledo College of Law in 1980. He became assistant prosecutor in 1981 and joined the law firm Walker, Bradford and Hill in 1987.
He formed his private practice, Faris and Faris, with his wife in 2006, and has also served as assistant public defender.
Faris said that in his career he has handled felony, misdemeanor, and traffic cases and has been involved in successful prosecutions including rape and murder cases, drug offenses, burglaries and more.
Faris said he would treat the government position the same as he does his private practice, which he now runs with his wife, oldest son, daughter-in-law and youngest son.
"I intend to be a full-time prosecutor and give up my practice completely," Faris said. "I would intend on being in court on a regular basis."
He said being full-time avoids the conflicts prosecutors get into when they also represent private clients. He said he thinks the county can get rid of that.
"I think it is important for the county to set a precedent that the prosecutor is full-time," he said.
Faris, who was endorsed by the Clermont County Republican Party earlier this year, said he is eager to take the next step in his career if elected.
"I would really be excited for the opportunity to run the office," Faris said. "I just have a real interest in being the prosecutor and representing county officials in cases."
Incumbent Prosecutor Don White has been re-elected five times since he first ran for prosecutor in 1988. Prior to that he was the assistant prosecuting attorney in the county from 1974-1976. In 1976 he began his private practice at Nichols, Speidel and Nichols in Batavia, where he continues to work.
"I just feel like I am not ready to retire," White said about his decision to run again. "I am still physically and mentally fit and I still love the job. Every day brings a different challenge."
White said he has enjoyed nearly every minute of his time as prosecutor and wants to continue the progress he has made since he took the office.
"Today we have prosecutors who can go toe-to-toe with the best lawyers in southwest Ohio," White said. "I believe I am responsible for that."
As prosecutor, White has also served with the Ohio Prosecuting Attorney's Association as secretary, treasurer, vice president, legislative committee chairman and president. He has represented both the state and the nation while serving.
He said if elected for another term, he will make an effort to continue to increase public awareness of identity theft and also crack down on heroin use in the county.
And while White is not a full-time prosecutor, he said that does not affect the quantity or quality of his work for the county. In addition, he said he gets paid less as a part-time prosecutor but still runs the office efficiently.
"The last year Warren County had a full-time prosecutor was 2010 and the budget was $600,000 more than mine," White said. "The question is not if I am part-time or full-time, it's am I doing the job?"
White said Ohio law is set up to enable prosecutors to also have a private practice. He said if a prosecutor is experienced, well-organized and has a good team, they can have a private practice and do both jobs without conflict.
"We are doing more for less and we are not suffering service-wise," White said.