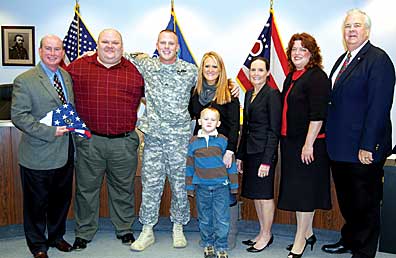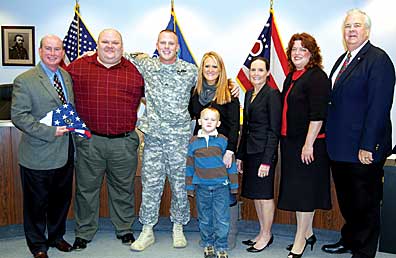 Sergeant Chris Schoumacher of the United States Army National Guard received an early Christmas present Dec. 6 when he was able to fly back to the United States from Iraq to reunite with his family.
"I am glad to be home before Christmas," Schoumacher said. "I got to surprise the kids at the mall."
Schoumacher said he told his wife, Kristin, so she could pick him up, but he kept his return a secret from his three children Carter, 6, Bray, 3, and Kabrey, 1.
Schoumacher said Kristin planned to take the children to sit on Santa's lap that day, and one of them even brought a picture of dad hoping Santa would bring him home for Christmas.
Once the children were gathering around Santa, Schoumacher came out of a nearby store to surprise them. The encounter was even recorded and posted on YouTube.
"I was just surprised and happy," Carter said about seeing his father. "You should watch the video."
Schoumacher said a lot has changed since he left for Iraq four months ago as part of Operation New Dawn. He said his 3-year-old has grown up, Carter seems older and Kabrey can walk now.
His wife Kristin is also glad to have him home.
"It's like when he is gone a part of you is gone," she said about running things at home without him.
Schoumacher was able to leave Iraq early because of the pullout. He said a lot of his time there was spent closing bases down in the country.
"Closing Iraq down was not fun, a lot of unpacking," he said. "In the end, there wasn't much there for us."
This was Schoumacher's second tour to Iraq and he said this time it was a lot better that his first tour.
"My mission in 2006 and 2007 was pretty bad," he said. "But nothing happened to me then and nothing happened to me this time."
He also said he had more support from home this time around.
"We didn't know about everything before," Schoumacher said about the various support groups in the county. "I think it's overwhelming to have so many supporters this tour."
Schoumacher was honored for his service at the Dec. 21 session of the Board of County Commissioners, and commissioners, Tracy Braden of The Thank You Foundation, Frank Morrow of the Veterans' Service Commission and Congresswoman Jean Schmidt were in attendance to thank Schoumacher for his service.
"Our brightest and our best serve our country," Braden said. "And you fall into that category."
Schoumacher also presented Commissioner Bob Proud with an American flag that flew on a truck in more than 60 combat missions in Iraq.
"He has been taking care of soldiers and their families way before me," Schoumacher said as he thanked Commissioner Proud for his support.