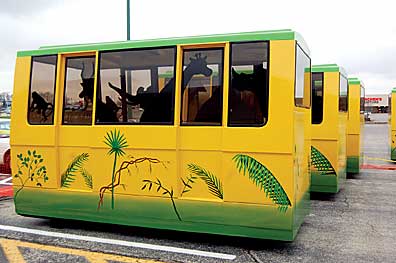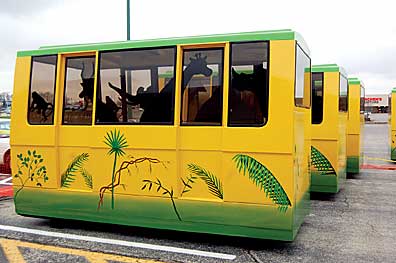 Anticipation for the new Jungle Jim's International Market to open in Eastgate is growing daily. What's going to be inside? How big does the store look? What specialty items will they carry? How will it be decorated and, of course, when will it open?
Questions are being directed to Jungle Jim's Facebook page, neighboring store owners, local government officials and anyone associated with the international market.
And while some of these questions can be answered, many are being kept a secret as progress is made inside and outside the old Biggs Place shopping center in Union Township.
What can be said, is progress on the store is steady, and new things are being added daily.
"Now that everything has settled in, we're really ready to start pushing hard," Phill Adams, developmental director of the Eastgate location, said.
He said as of late, construction crews have had to prepare the old biggs to become the new Jungle Jim's by renovating the space that will house each different section of the market including a deli, bakery, international food section, cheese shop, produce section and much more.
"We've stripped everything in here and started over," Adams said about the space.
He said they had to make improvements to walls, ceilings and the drainage of the building and also had replace much of the technology that was outdated or unnecessary for the new store.
Now that much of this time-consuming work is nearing completion, Adams said they are beginning to put the design plan into action, and the innards of the super market are taking form.
The entrance and exit are well laid out, designed to minimize traffic and keep things flowing.
Close to the front, the structures of the restrooms are up, and while Adams can't disclose the details of the restrooms, he said they will be something special.
Near the restrooms there will also be a movie theater where guests can watch the evolution of Jungle Jim's International Market, which was originally a road-side market founded by owner Jim Bonaminio in 1974.
Moving into the store, guests will be directed into the American food and natural foods section. On the right side of the store they will be able to experience a variety of cultural foods in the international section. Included in this area is an entire section dedicated to hot sauce.
There will also be a candy shop, deli and bakery in the store with the seafood section toward the back of the store.
Several of these sections required numerous refrigerators and freezers as well as space for employees to work behind the counter. Concrete had to be removed and replaced to get these sections up to par.
The dairy section especially took a lot of work, as construction crews had to rip up much of the underground air system and start from scratch.
"It looks like a bomb shelter," Adams said about the construction. "We're making it right."
Close to dairy, the produce section will also be similar to Jungle Jim's Fairfield location, food stands filled with fresh, and rare fruits and vegetables will span a wide area.
And finally, the back left area of the store is where the large beer and wine section will be.
A huge room will house cold beer and there will be a tasting bar. The wine section will have dozens of wine racks with a variety of wines, in addition to a fine wine cellar created from mostly recycled materials. There will also be a cigar shop and humidor, and a second entrance and exit in the section.
Eventually, Adams said, they hope to turn the exterior of the building into an outdoor bar. The exterior is already designed and looks like a chateau, with stone storefronts and intricate details.
Guests can exit the store in that section, or in the front of the store close to where they came in. Dozens of cash registers have been installed and Adams said there are more to come.
"I can see the store already done when I'm walking through it," Adams said.
Section managers will work to bring in the wide variety of foods and product into their section, so when people ask "Do you carry this?" they have an answer, and most of the time will be yes, because the selection at Jungle Jim's is expansive.
Putting things in place and decorating will be the final steps, and will be when most of the Jungle flair will come out.
"Jungle Jim" and other employees have worked hard to find many of the fun decorations and larger-than-life accessories that make the store interesting and fun. And like the Fairfield location, each piece will have a story.
"The sensory overload in both stores is going to be phenomenal," Adams said.
In addition, Adams said, the store is designed to flow smoothly for both customers and employees.
Jungle-themed walls are being installed to help separate sections and if guests are ever wondering where they are, they can simply look up to find color-coded ceiling paint over different sections of the store.
And even though purchasing the former Biggs Place location has turned into a lot of work, Adams said they knew what they were getting into, and are glad that they selected the Union Township location as Jungle Jim's second market.
"We knew it was going to be a costly adventure, we weren't surprised," Adams said.
He said Union Township administrators have been fantastic working with the company not only by offering incentives for them to locate in the township, but also by working with them on transportation plans, parking and more.
One of their big concerns has been getting people in and out of the store once it opens and especially on opening day. Adams said they have worked with township administrators, who are going to allow employees to park at the community center, and they are also re-working the entrance to the shopping center so it can handle more traffic.
Union Township officials have already made improvements to Aicholtz Road, which runs behind Jungle Jim's, so it can handle delivery truck traffic to the back of the store.
With the announcement that Union Township will be gaining even more business from expanding Total Quality Logistics, Adams is confident they chose the right location and is excited for the new market to be up in running.
"This is about to burst," Adams said about the Union Township area. "The excitement, the frenzy, I think there is more coming."
His only hope now is that surrounding businesses and restaurants will follow suit in improving the shopping center.
"Everyone has got to step up," he said. "There are a lot of people here and a lot of people coming. This is a grand slam location."
Find out more about this extraordinary market at www.junglejims.com