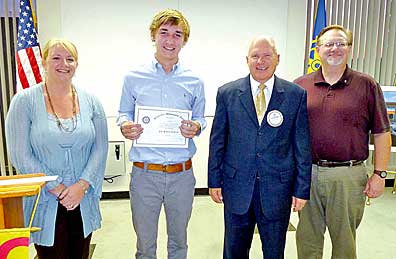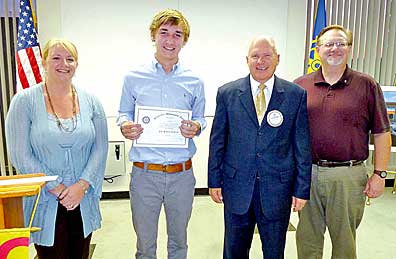 Ian Malott of Batavia High School was honored as Student of the Month at the Oct. 4 meeting of the Batavia Rotary Club.
One high school student from Batavia is honored at the first Rotary meeting of each month during the school year. Students who are nominated for this award live their lives in a manner that exemplifies the Rotary motto of "Service Above Self."
Malott's school and community service make him very deserving of this honor.
"Ian is an exceptional young man who is an honor student and active member of the graduating class of 2012," said Felicia Grooms, Guidance Counselor at Batavia High School. "He is a very well-respected member of the student body."
Malott is currently ranked in the top five percent of his class. His class schedule includes both AP and honors level classes, but he is able to squeeze in lots of time for extracurricular activities. These include being a member of the Batavia High School Student Advisory Board, mock trial, student council, Younglife, and the National Honor Society. In 2010, Malott was one of two students from Batavia who participated in the Clermont 20/20 Look to Clermont Class and helped create a high school prom for students with disabilities. He currently serves as a senior mentor, student school board member, and is President of the senior class. Malott is also captain of the soccer team and received the honor of being a member of the Ohio State South Team. He enjoys spending his spare time with his family, and plans to attend the University of Cincinnati School of Design, Architecture, Art, and Planning.
The Batavia Rotary Club is comprised of a diverse group of community-minded members that are working together to address various community and international needs and to promote peace and understanding throughout the world. Club meetings are held every Tuesday at 7 a.m. at the Hawk Building on Taylor Road, Clermont County Airport. Prospective new members and visiting Rotarians are always welcome.
Please visit www.batavia-rotary.org for more information.