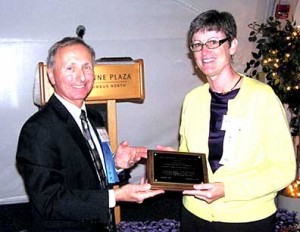 At the recent 2011 Fall Conference Banquet of the Ohio Association of Magistrates held Sept. 22 at the Crowne Plaza Columbus North, Clermont County Domestic Relations Judge Kathleen M. Rodenberg was one of two former Magistrates, now judges, to receive the prestigious OAM Judicial Award.
The award, which is presented annually to no more than four judges in the State of Ohio, recognizes individuals who have been strongly supportive of judicial education and who continue to support the 500 member association in helping magistrates better perform their judicial duties.
Prior to her election in 2011, Judge Rodenberg served nearly 15 years as a magistrate in the domestic relations court as well as the municipal court.
The other recipient of the 2011 Judicial Award was Judge Barbara S. Carter of the Butler County Domestic Relations Court.