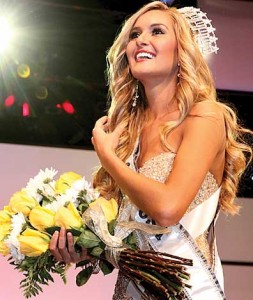 Audrey Bolte, a 2007 Batavia High School graduate, had never been in a beauty pageant before she packed her outfits and drove up to Portsmouth, Ohio two weeks ago with friends and family.
When she returned to her home town, however, she brought with her the title of Miss Ohio, which puts her in the running for Miss USA.
"I felt very confident in myself, but pageant is totally different than what I'm used to," Bolte said. "I just did my best and it looks like it turned out all right."
Bolte calls herself a country girl. She rides horses and drives a Ford truck. And although she was involved in modeling growing up, she never got into beauty pageants. She said her mom, Shelly, encouraged her to participate, but she was busy with other activities.
Bolte attended St. Andrews Presbyterian College in North Carolina after graduating from Batavia High School. She was active in the equestrian program, competing on several collegiate teams and helping her teammates reach nationals her junior and senior year.
While in college, Bolte volunteered with several organizations and was involved with honor clubs including the Business Honor Society, where she earned a marketing award.
She graduated in 2011 with a degree in business administration, with a focus in marketing and management, and a minor in equine science. Once she graduated, she returned home to Batavia, where her parents have a farm.
"I have been so busy with that, I had no time to do a pageant," Bolte said about her college activities.
But once she returned home, her mom suggested the pageant again, and this time Bolte considered it.
"I decided to run then," Bolte said. "I wanted to opportunity to make a difference."
Bolte prepared for the competition by working out to stay in shape, updating herself on current events and more. But nothing prepared her for what a pageant was really like, until she got there and experienced it.
She said many of the girls in the pageant helped her by being friendly and answering any questions she had. And while the atmosphere was competitive, she said she wasn't as nervous as she thought she would be as a first-timer.
"I made tons of friends," Bolte said. "I wasn't very stressed because I didn't really know what was going on, but I tried to make it fun."
Sixty girls from across Ohio participated in the pageant Oct. 14-15, which included three areas of competition; interview, swimsuit, and evening gown. Judging criteria included poise, confidence, character, and personality.
The competition was narrowed down into the top 15 and soon Bolte found herself in the top five.
For her top five question she had to talk about the most influential women of her time. She chose First Lady Michelle Obama.
"She is a wonderful role model, the first African American first lady, and stands for improved exercise of the younger generation," Bolte said.
She also said she is impressed that the first lady still shops at target and other lower-price retail stores, which shows she can relate to many Americans trying to save money.
The judges liked her answer, and she remained on stage as the judges awarded the runners-up. Finally, the judges announced the first runner up, and Bolte was announced as Miss Ohio.
"I was so shocked," she said. "I didn't know what my name was, I didn't know what my age was, I just looked at the crowd, I was shaking like a leaf I was just so excited."
Bolte said she didn't expect to make it as far as she did, and is thankful that she had her family and friends there for encouragement.
"My agent said my mom and grandmother looked like teenagers going crazy," Bolte said.
For being named Miss Ohio, Bolte received more than $40,000 in scholarship money, she will have the opportunity to travel across the country to attend many events, and she will be competing in the nationally televised Miss USA pageant next summer.
"Her year will be all about personal growth and development," Melissa Pitchford, executive director of Miss Ohio said. "I can tell you that snagging the title provides her the opportunity to represent the state of Ohio."
Bolte said she hopes that she can bring some focus back to the state at the Miss USA pageant and is excited to begin her adventure as Miss Ohio.
"I think I will really be able to be prepared to compete and enjoy the Miss USA pageant," Bolte said. "And enjoy everything that goes with it."
And while the pageant winner came home from Portsmouth with much more ahead of her this coming year, she said she is still the same girl as when she left, and nothing will change that.
"I am just a normal, everyday country girl that decided to put her foot down," Bolte said. "I still clean my horses stalls every day."
For more information about the Miss Ohio pageant visit www.missohiousa.com.