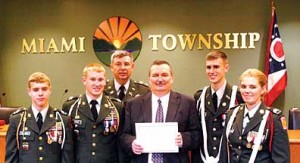 Regular spectators at the Findlay Market Parade know of the precision, discipline, and dignity that the Live Oaks Career Campus/Milford Army JROTC students show in their public Color Guard appearances.
The nearly 2,000 dignitaries and hundreds of thousands of television viewers who saw the swearing-in ceremony know that as well.
But what those community members – and others – may not know is that for 17 consecutive years the Live Oaks/Milford JROTC has been recognized by the Secretary of the Army as an "Honor Unit with Distinction." "That's the longest streak in Ohio, I believe," said Lt. Col. Albert Brauer, who has commanded the JROTC unit since 1993.
His unit is well-known in the community and in military circles. Besides appearing in parades, Reds games, and the Governor's inaugural ceremony, they were selected by the U.S. Army Cadet Command as the color guard for the 2011 Society of Hispanic Professional Engineers convention and were chosen to appear at the national convention of State School Boards.
Live Oaks cadets have participated in national competitions and have been honored by such groups as the American Legion, Veterans of Foreign Wars, and Sons of the American Revolution.
In 2010, a leadership team of Live Oaks JROTC cadets competed in the Championship Round at the Army JROTC Leadership Symposium in Washington, D.C.
Their most recent recognition came on July 19 as Jeff Hardin, Ohio Board of Education member, honored the JROTC unit and retiring commander Albert Brauer at the Miami Township Trustees meeting.
Students at Live Oaks Career Campus and Milford High School can participate in the JROTC (Junior Reserve Officer Training Corps) program as an elective class. They learn cultural awareness, global history, teamwork, self-discipline, and personal responsibility.
They participate in regional and national drill team and air rifle competitions, and take field trips to such historical and important sites as Gettysburg and Washington, D.C.
Lt. Col. Albert Brauer joined Live Oaks after retiring from a 21-year Army career which featured a wide range of assignments including a year as a Research Fellow at The RAND Corporation analyzing Department of Defense missions and priorities, and as a military and research advisor in Washington at the Army Research Institute.
He retires from Live Oaks in July 2011.