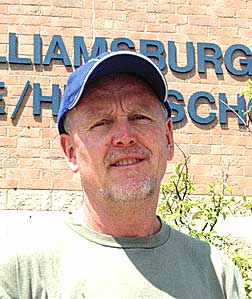 Rick Healey is the new athletic director at Williamsburg High School. He replaces Jim Dyer in this position.
Healey is a 1977 graduate of Williamsburg High School where he was a four-sport all-star in the old Clermont County League. He lettered and starred in football, basketball, baseball, and track.
Upon graduation from Williamsburg he attended Wilmington College where he began playing football for the Fighting Quakers and also competed in track and field. He earned his bachelor of science degree in education in the field of industrial arts (now known as industrial technology).
Instead of immediately beginning his teaching career he entered the U.S. Marine Corps and was stationed in California. After retiring from the Marines that he began his career as a teacher.
He was anxious to return home and to begin teaching back in Clermont County at his alma mater. His career as an educator at WHS began in autumn 1996 and when the second semester began that school year the high school was moved to its present location. He taught industrial arts, wood shop and after the move across old state Route 74 the program became known as industrial technology.
In addition to his educating the children of his home town in the classroom he has also been a valuable asset by coaching the Wildcats in junior high school football and boys basketball, junior varsity softball, varsity girls basketball, a short stint with golf, and today is the coach of the successful varsity fastpitch softball team.
"I was approached about if was interested in becoming athletic director when Jim Dyer retired," said Healey. "I definitely wanted to continue building the athletic program and the athletic excellence of the program. Being an alumnus made me want to try and continue all the good that was going on.
"I want to contribute to all of our athletic programs. Hopefully I can help the programs continue to improve. I want to strengthen the entire athletic program and I want to support the coaches and I want them to know that I support them all. I want to be there for them all the time. I'll do my best to let them know I'll be there to support them and help them all the time."
He is very pleased with the administration's agreement and support for him to continue as the head coach of the softball team.
"They have agreed that I can still coach and I absolutely love coaching softball."
An athletic director is the head honcho of a school's entire athletic program both competition-wise and dealing with a tremendous amount of paper work and involvement with public relations.
Healey's wife, the former Karen Gaskins, is herself a former Williamsburg High sports star and a member of the 'Burg High Sports Hall of Fame. The couple will be celebrating their 29th wedding anniversary this October.
His brothers and her sisters were all outstanding athletes for the Blue and White, too.
The new Williamsburg athletic director laughed, "I told her that I was the boss for the first time. But she laughed and said 'we'll see.'
He continued to laugh as he said, "She is very good with paper work. She doesn't know it yet, but she's going to be doing a lot of the paper work.
"I very glad and proud to be working in Williamsburg. I'm very excited about this. I'm willing to give it a try."
The Wildcats, under Healey's leadership of the athletic program, will face the following varsity athletic schedules.
Football: Aug. 26 at Summit Country Day, Sept. 2 Paint Valley, Sept. 9 at Fayetteville, Sept. 16 East Clinton, Sept. 23 at Blan, Sept. 30 at Batavia, Oct. 7 Bethel-Tate (Homecoming), Oct. 14 Northeastern, Oct. 21 at Landmark Christian, and Sept. 28 Western Brown (Senior Night).
Volleyball: Aug. 27 at Summit Country Day, Aug. 30 at East Clinton, Sept. 1 Georgetown, Sept. 6 Felicity, Sept. 8 at Batavia, Sept. 10 at Mariemont, Sept. 13 at Blan, Sept. 15 at Goshen, Sept. 19 Western Brown, Sept. 21 Amelia, Sept. 22 at New Richmond, Sept. 26 at Felicity, Sept. 27 Bethel-Tate, Sept. 29 East Clinton, Oct. 3 Northeastern, Oct. 4 at Georgetown, Oct. 11 Batavia, and Oct. 13 Blan.
Girls Soccer: Aug. 18 Goshen, Aug. 25 at Batavia, Aug. 30 Georgetown, Sept. 6 Felicity, Sept. 8 at Blan, Sept. 12 at West Union, Sept. 13 at Bethel-Tate, Sept. 15 Northeastern, Sept. 19 at North Adams, Sept. 20 at New Richmond, Sept. 26 Northeastern, Sept. 29 Batavia, Oct. 4 at Georgetown, Oct. 6 Lynchburg-Clay, Oct. 11 at Felicity, and Oct. 13 Blanchester (Senior Night).