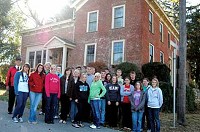 The Look to Clermont High School Class of 2010-11 recently took a historical tour of much of Clermont County guided by historian and Clermont Sun staff writer Richard Crawford.
These students, representing every high school in Clermont County, learned of many highlghts of the county's past.
Those representing their schools were Rachel McClure and Chris Lau of Amelia, Sophia Enriquez and Ian Malott of Batavia, Hannah Hearn and Erik Shinkle of Bethel-Tate, Jenna Varner of Clermont Northeastern, Alex Stevenson of Felicity, Heather McLeod of Glen Este, Sean Bell and Storm Huffaker of Goshen, Rachel Stewart and Jennifer Walls of Loveland, Alexandra Breeze and Carolynn Hartman of Milford, Savanah Glenn and Myla Gordo of New Richmond, Kaitlyn Varney and William West of Williamsburg, Sarah Eubanks and Jacob McKinney of U.S. Grant, and Bryan Morris of Live Oaks.