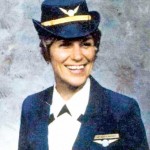 A driving force in the success of the Clermont County airport passed away Wednesday, Dec. 1 after a three-year battle with lung cancer.
Rosalie Burchett Hager and her then husband Randolph "Bill" Burchett managed the airport, which broke ground in 1968, from 1970 to 1986.
The Bethel couple was awarded an extended contract as fixed-base operators at the Clermont County airport in the summer of 1970 after the first operator went out of business.

The two aviation enthusiasts spent the next 16 years building up the their business and the airport.
"They laid the groundwork for what we have today," Sporty's founder and chairman Hal Shevers said.
When the Burchetts took over the airport it had a 3,700 foot lighted runway, fuel tanks, and little else. They quickly built a temporary office and made plans with the county commissioners to build a taxi-way, terminal, and parking lot.
The terminal was designed by local engineer and architect William Schilling, at no cost, and built by volunteers from the Clermont County Pilot's Association. Materials were paid for through a grant from the state and about $25,000 from the county, according to Shevers.
Rosalie, who met her first husband when he began teaching her to fly in 1965, worked along side Bill Burchett first as a ground instructor and later as a flight instructor. With Bill Burchett's emphasis on safety many of their students went on to be commercial pilots or corporate pilots. They expanded their instructional program through a partnership with the then new U.C. Clermont College. U.C. still maintains an active pilot training program at the airport today.
The couple also operated a private charter service, Clermont County Aviation, from the airport which flew corporate executives and industrial cargo from the airport.
"They were aviation advocates and brought private industrial aviation to the county," Shevers said.
Their efforts paved the way for the Grant industrial park next to the airport, and their company hauled people and equipment for Ford and Milacron.
In the spring of 1970 there were three airplanes based at the airport and under the Burchett's management the numbers rose to 20, nine of which were housed in a hanger built by their company.
Shevers said Sporty's, which now oversees airport operations and maintenance, now maintains a fleet of 110 planes at the airport.
"It was nothing for us to go from 20 to 110," Shevers said. "Our part was much easier than their first 15 years."
Shevers said Rose and Bill Burchett were a great team and each played a major role in the development of the airport.
"Rose was the one that made the whole thing happen," Shevers said. "She was the expert on the ground and he (Bill) was the expert in the air."
According to countless letters Rose kept in a scrapbook it was their friendly and courteous manner that made the Clermont County airport stand apart from other airports around the country. There are letters from private pilots on cross-country trips thanking the Burchetts for helping to fix a flat tire or for inviting pilots socked in by foul weather to spend the night in the Burchetts' home until the weather cleared in the morning. Letters from regional businesses thank them for a simple pleasant trip or for helping to pick up and load cargo.
Rose's interest in aviation extended beyond managing an airport and training new pilots. She joined the Ninety-Nines international organization of women pilots and flew in their 1971 "Powder Puff Derby" from Calgary, Canada to Baton Rouge, La. with her copilot Consuela Huffman, of Blue Ash in just under 19 hours. Huffman was an air traffic controller at Lunken Airport. She also volunteered as the Ohio chairman of the Ninety-Nines charity organization Wings of International Health. She helped fly medical supplies in a relay from all over the country to Medical Relief International in Santa Barbara, Calif.
The couple left aviation in 1986, shortly after Bill had a stroke in 1985. His plans to expand the runway to 5,500 feet to accommodate corporate jets and to construct a crosswind runway never came to fruition.
They moved to Lake Loreli west of Fayetteville where Rose volunteered with the Hope Emergency Program. They began painting and woodcrafting and were frequently recognized at Cincinnati's Appalachian Festival.
Bill Burchett passed away in 1992 and Rose later remarried. With her husband Thomas Hager she traveled the country in an RV panning for gold. Rose incorporated their panning activities into her new found love for painting by sprinkling gold dust into mining scenes. She enjoyed painting a number of subjects and did pet portraits for friends.
She joined the Lost Dutchman's Mining Association with her husband Tom Hager and managed the directory at the Brenda RV park they frequented in Arizona.
Rosalie is survived by her children Teri Raabe, and Bill Burchett, step-children Randolph Burchett, and Priscilla Slocumb, three grandchildren, six step-grandchildren, three great grandchildren, and three step-great grandchildren, and by many friends and family.
Her love of flying is carried on by her step-son Randolph and his son Derrick, who fly a corporate jet for Frank "Bo" Wood Jr. out of Lunken Airport.
She chose to donate her body to the University of Cincinnati College of Medicine. No services are planned.
The family has asked that memorials be directed toward one of three charities: The Hope Emergency Program, P.O. Box 214, Fayetteville, OH 45118, the Lung Cancer Research Foundation, 845 Third Avenue, 6th Floor, New York, N.Y. 10022, or Hospice of Cincinnati, 7691 Five Mile Road, Cincinnati, OH 45230.