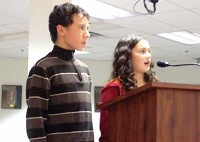 At the Nov. 16 Milford City Council Meeting, two Milford junior high school students presented a slide show of their annual River Clean Up Day project. Samantha Short and AJ Erdaty reported that the sixth grade science program attracted 218 volunteers to clean the banks of the Little Miami River.
"We found a lot of weird stuff: stoves, refrigerators, tractor tires," Erdaty said.
City workers help the volunteers by moving and disposing of some of the heavy items they find.
Teachers and students from the junior high have been caring for the river for 10 years. Rachelle Rapp-Dickerson is a science teacher who accompanied Short and Erdaty to the meeting. She said their program has received a STEM grant in the amount of $14,000 to continue and to improve their work.
STEM grants are awarded by the Science, Technology, Engineering and Mathematics Education Coalition which is sponsored by the U.S. Department of Education, the National Science Foundation and many other organizations. They award grants to support teachers and students in programs integrating these sciences.
Angel Erceg, a Milford Junior High science teacher, presented their program entitled "Little Miami River Cross Curricular PBL Project" at the University of Cincinnati to win the grant. The students will use the grant money to buy backpacks with flip cameras and digital probes to help with their river testing as an ongoing part of their river project.
"Another way we help the river besides the clean up is doing river monitoring test," Erdaty said. "We've been monitoring the river since the year 2000. One thing we do is take macro invertebrate samples. This is the bottom of the food chain and we want a large diversity to show the river is very healthy. The chemical tests we do include dissolved oxygen, nitrogen and PH. Physical tests we do include turbidity and temperature."
He added that their data is shared world-wide and with local organizations.
Rapp-Dickerson said that the longevity of the project is due to the cooperation of a number of teachers, school administrators, city workers and community members. She said that the clean up project would be impossible without the help of Susan Ellerhorst, who heads Milford's Solid Waste and Recycling Department.
"We're basically raising a group of young citizens to respect the environment, take care of the environment and just volunteer," Rapp-Dickerson said.
In other council business, Tom Freemont was sworn in as a member of the parks and recreation commission and Joe Fitzwater became the newest member of the citizens housing committee.
After being sworn in, Freemont said, "Every Citizen who has the ability and the time to serve their community should offer some of their time."